Desktop Access Is Hurting Your Sales Team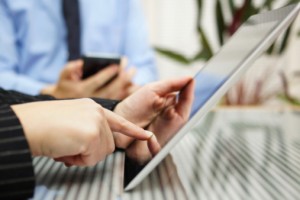 Members of the global workforce are always on the move, often commuting to meetings or conferences. According to an ITProPortal article, studies show that a whopping "61% of staff work outside the office at least part of the time," using three or more devices daily. In fact, the number of devices the average enterprise managed increased 72% between 2014 and 2015! This means that for every traveling worker, the ability to close a sale or manage a client is heavily dependent on the availability of the necessary tools.
Of course, it isn't as simple as just granting employees mobile access to their documents. As with any solution, there are costs and benefits to putting necessary files online.
Complete document management
The pros are pretty obvious: Having all of your documents in one online-accessible place means
reducing the risk of misplacing documents ("Where did I save that again?"), and
negating the need to anticipate every form or document needed for an interaction with a client. This way, you won't be caught off guard or appear unprepared.
This accessibility also allows interaction with clients on the spot, making it easy to find contracts or invoices, look into client history, and more.
But is it secure?
The downside of easy access is also easy access — by people who shouldn't have access, that is. To clients, it can often seem like there is a heightened security risk when all of your important files are online. But in reality, your online files can be just as safe — or safer! — as documents saved to a closed network.
Just as you would with a closed network, you can restrict access to folders, documents, and more. You can also restrict actions — making it so that certain people can view documents, for example, but not edit them.
Not only that, but an online document management system can also track who accesses which files and what they do with them, adding an additional security component that even your closed network doesn't have.
More than half of workers today can't afford to have their files trapped on desktop computers in their offices. TransAccess can give you secure access to exactly the tools you need when and where you need them.